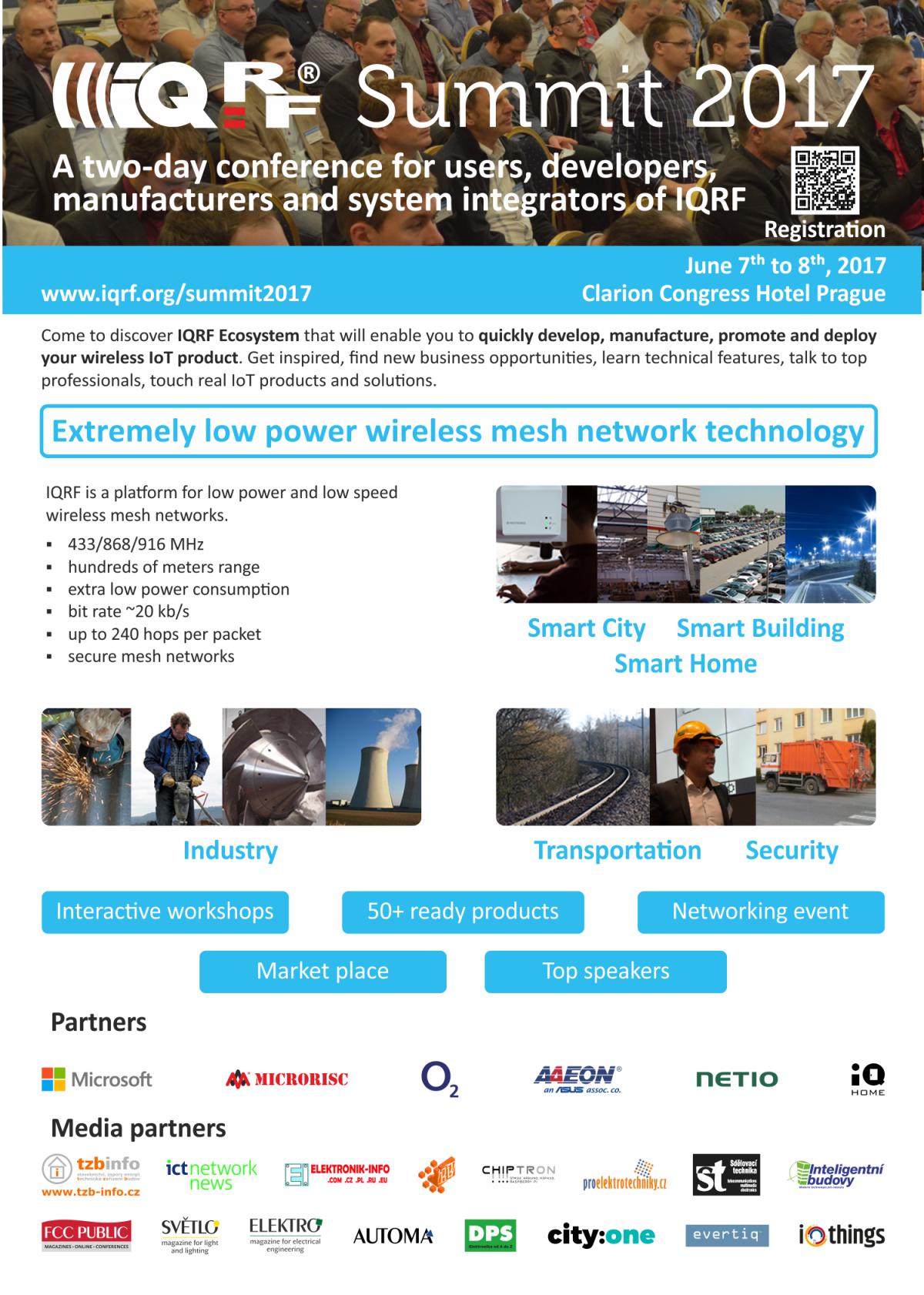 IQRF Alliance and partners invite you at a two-day summit that touches all the key areas of the Internet of Things - smart cities, smart buildings and homes, industry, security, transportation. The real solutions will be demonstrated at the event and also more than 50 new IoT products. In addition to more than 30 interesting and interactive presentations you can look forward to many practical workshops. We expect more than 300 visitors as professionals, technicians, developers, representatives of cities and regions.
Among the presenters you will find representatives from companies such as Microsoft, O2, AAEON, NETIO products, MICRORISC, Aledo, Protronix, IQ Home and many others.
Date: June 7th to 8th, 2017
Location: Clarion Congress Hotel Prague
WWW: www.iqrf.org/summit2017
Solutions presented at the Summit are based on the IQRF technology, one of the leading wireless mesh networking technologies on the market. IQRF operates on sub gigahertz ISM bands to collect small data from devices and/or to control them. Extremely low power consumption of this platform enables devices to work on batteries for many years. There are hundreds of thousands devices running on this mature technology since 2008.
Among the topics presented you can find here solutions of parking, lighting, temperature monitoring with energy savings, sensory monitoring of indoor air quality, industry safety and much more.
A new theme at the Summit will be monitoring of the security of persons in high-risk environments. Smart helmets containing temperature, position and hit sensors allow find out whether there is a hazardous situation affecting the employee health or life. With an IQRF network is a localization of that employee easy and in the incident place is made the alarm.
The smart data networks should not only monitor, but in certain conditions also cause a change. One option is to turn on / off remote-controlled socket for 230 V. There will be shown new types of sockets at the summit, operating in an IQRF network and communicating with other IQRF devices.
One interesting project, pointing out the issue of air quality in schools, is the pilot project Environment - Healthy School, in which long-term measurements of an indoor and outdoor environment will be made at a selected school. We will bring you interesting results and conclusions.
In workshops you will be able to practically try out different solutions. There will be publicly introduced the latest IQRF operating system focused on security and there will be shown what progress has been made towards the interoperability of devices using IQRF technology.
The Summit will host the final of the international competition IQRF Wireless Challenge III and authors of the best projects will publicly present their solution to the professional public.
Moreover, there will be a networking event enabling informal meetings of all participants, discussion on interesting topics and establishing new business partnerships.

Organizer
IQRF Alliance
Prumyslova 1275
Valdicke Predmesti
506 01 Jicin
Czech Republic
GSM: +420 777 571 699
E-mail: alliance@iqrf.org
WWW: www.iqrfalliance.org
Contact
Ivona Spurná
Event manager & PR
ivona.spurna@microrisc.com
+420 777 775 735